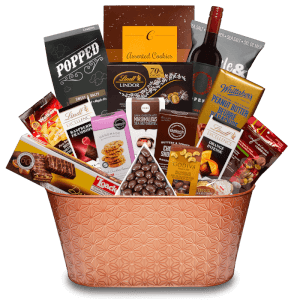 Everyone loves chocolate. To anyone with a sweet tooth, this lush and heavenly treat is the perfect gift. You can give this gift to your friends, girlfriend, wife or mother on any occasion and for any reason. Chocolate is a blessing, and without any doubt, there is no one who won't appreciate this extra hint of sweetness in their daily lives.
Gift baskets Toronto Company Nutcracker Sweets always has creative and outstanding gifts for every kind of celebration, and this basket is no exception to your loved ones. In these delicious, chocolate-filled baskets, you will receive a variety of different sweets and treats that can cater to any person's cravings.
Tip Top Trio
Tip Top Trio is a perfect option if you want to get a variety of high-quality gifts for the lowest price possible. This basket has six sections with six different and unique products. The packaging comes in a luxurious and expensive black-and-gold theme, which showcases a sophisticated design. You can get popcorn, Dark Chocolate Drizzled Sea Salt Caramel, Triple Passion Cookies, Caramel filled Milk Chocolates for only $40.
Tasteful Tower
This basket is similar to Tip Top Trio as it also has six different sections. With each space filled to the brim with chocolate and candy favorites, this surprise will no doubt impress any receiver of the gift. With twelve delicious and beautiful options included, the price is very reasonable at only $75. This basket can be shipped to people anywhere from Canada to New York.
Luscious Lindt
Luscious Lindt is one of our best and most appreciated products. With a subtle and elegant black-themed basket, the surprise of Lindt chocolates inside makes it all the more sweet. This basket is best for cooperate meetings and events as it is designed in a sophisticated and classy manner. It has around eleven Lindt chocolates which include the Lindt 70% Dark Chocolate Box, Lindt Excellence Roasted Almond Bar, Lindt Excellence Raspberry Bar,
Lindt Assorted Chocolates, Lindt Hazelnut Spread, Assorted Lindt Truffle Triangles, Lindt Milk Chocolate Pralines and the Lindt Excellence 70% Dark Chocolate Bar. This basket costs $115, which is an affordable sum given the amount of expensive and high-quality chocolates within.
Glorious Godiva Basket: Small Edition
This basket was created with elegance and serenity in mind. With a black exterior and a satiny white ribbon attached, the gift conveys quality and respect with only its appearance. For $45, this basket comes with a Milk Chocolate Assortment G Cube, Kosher Dark Chocolate Sea Salt Bar, Godiva Masterpieces, Dark Chocolate Ganache Heart, Kosher Dark Chocolate Mint Bar, and Milk Chocolate Cashews.
Glorious Godiva Basket: Medium Edition
This basket is a larger size than the small edition of the Glorious Godiva Basket. This basket costs $85 and comes with a more diverse arrangement of sweets and treats for everyone to enjoy. The medium baskets include four additional products which are Dark Chocolate Mint G Cube, Kosher Godiva Masterpieces, Chocolate Sea Salt Caramel Bar, Godiva Milk Chocolate Graham Cracker and much more.
Glorious Godiva Basket: Large Addition
This Glorious Godiva Basket comes in three sizes, with each edition created for a certain special occasion in mind. With options from small to large, this basket is sure to please anyone whether their budget ranges from low to high. This large basket costs $115 and has fourteen items in it. The items include the Dark Chocolate G Cube, Kosher Dark Chocolate Sea Salt Bar, Chocolate Sea Salt Caramel Bar and many other types of chocolates. This large assortment of treats is perfect for any occasion, and is guaranteed to be a symbol of your generosity and kindness.
All of these sweet gift baskets are a perfect addition to any party or celebration, or even just as a fun and sentimental gift to your loved ones. With these delicious, chocolatey gifts, it is impossible to go wrong. Since quality is our utmost priority, these gift baskets from Nutcracker Sweets are a special touch to all special occasions. With something unique in every one, there is no doubt the cravings of your loved ones will be satisfied!
CanadianReporter.ca was not involved in the creation of this content. Information contained on this page is provided by an independent third-party content provider. CanadianReporter.ca makes no warranties or representations in connection therewith.