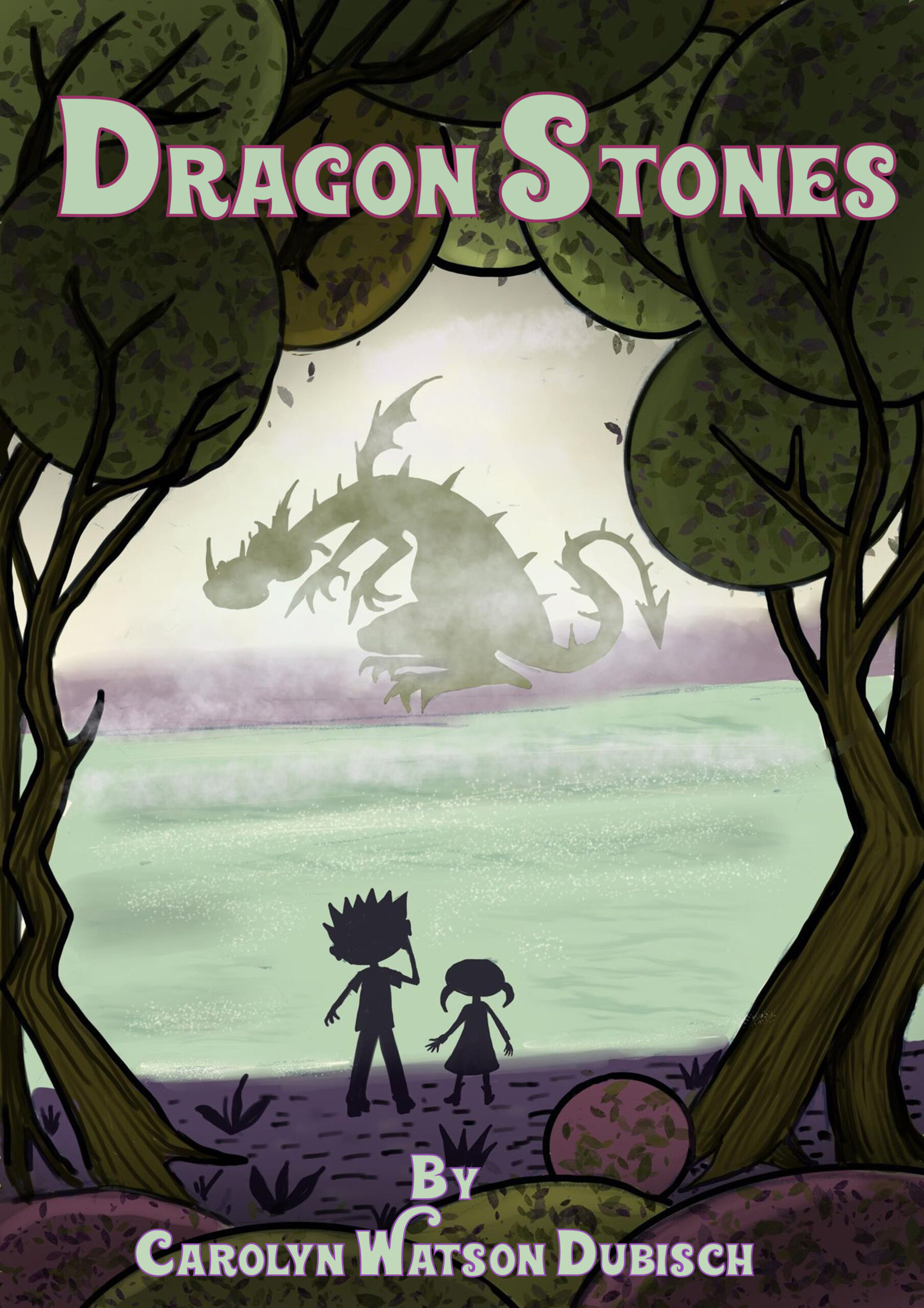 Carolyn Watson Dubisch's latest offering is a new fantasy/mystery picture book called, Dragon Stones. Carolyn is a prolific author and illustrator in recent years and frequently touches on fanciful tales. Her art style is a bit different in this book, but no less charming.
Dragon Stones begins with two bored children as many unusual stories often do. It's told in the first person and our narrator is little Lizzy, who takes us on an adventure to a lake in the forest after she and her brother were expelled from their aunt's house for being rambunctious.
The children begin skipping stones across the tranquil pond and the mystery begins when they come skipping back to shore right at them! The stones are hot and marked with a symbol and from here the children set off to solve this strange mystery.
On the far side of the lake in a smokey lair they discover the dragon. He too bears the mark. After an angry confrontation the children are rescued from his terrifying clutches by none other than their Aunt Edwina, (who is rendered as a tiny figure, as threatening as a bunny rabbit). Her presence terrifies the dragon who is literally chased off with his tail between his legs.
The book is extensively illustrated throughout and really brings the book to life. As an accomplished illustrator, Carolyn really pulled out all the stops on this one. There must be thirty illustrations in this slim book. Since it's marketed to beginning readers as well as the picture book market I would say this is definitely a plus for any children learning to read as pictures make all books have dimension. Even when reading memoirs I jump to the photo section and study the images, so like every child I've ever met, I believe I am a pretty visually focused person.
I would venture to say, even as an adult, this book is a keeper. If you're looking for a book to help your child be entertained and spark their imagination, you'll find that and more in Dragon Stones.
About The Author:
Carolyn Watson Dubisch is a children's book author and illustrator living on the Pacific Coast of Mexico. A graduate of the School of Visual Arts in New York, she has also illustrated numerous books for other authors as well. Some of her recent books include, The Hand Turkey Book, Andy and the Mask of The Dead, and As the Sun Rises, Morning in Mazatlán. She also creates comic books for children and has won awards for her series The People That Melt in The Rain.
Reader Reviews:
This is such a fun and funny story full of magic and mythical creatures. It tells the story of two children who go on a magical adventure and find a dragon! The illustrations are vibrant and make the characters pop. Highly recommended
–Lauren Marie
Great storyline and illustrations! As a teacher I can recommend to others for in the classroom or at home. Keeps up the imagination and magic of reading!
-Amy Nicole Rawson
From the cover to the blurb and all throughout the book we were hooked. What an exciting tale of magic and mystery. A kooky witch aunt, a misty lake with mythical creature, magic glowing rocks! There is so much here to delight a child's imagination. Especially love the hook at the end that makes you wonder what on earth is in the backyard. Hope to see more from this author!
– Lindsey